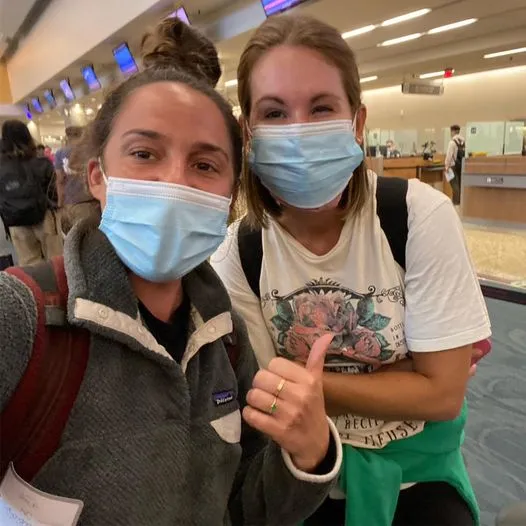 "Turns out me saying hey, made someone I've never met in real life's day!" — Rayna Rose Exelbierd
Can someone you have NEVER met be your mentor? I say YES and meet my mentor Shannan! The last two weeks I was in Italy. When I was going through customs in Atlanta, I looked up, and there was my mentor staring at me with her mask on! I think it may have been my biggest fan girl moment of all time. Bigger than the moments of meeting a sitting American president, any world famous DJs, Paris Hilton, Bar Rafeli and so many influential others.
Opt to keep your headphones away and interact with your surroundings. Be where your sneakers are- instead tune into the world around you.
I was tired from 10+hours of travel and I could have easily zoned out. We are constantly surrounded by new connections and experiences if we allow ourselves to be open.
I told Shannan never underestimate how much your presence makes the world a better place and the impact her content has been on my entrepreneurship journey. Her friend smiled at her with admiration and I walked away feeling so inspired.
From this story I challenge you to not only say hello to everyone, but be the FIRST to say hello! Since writing this piece Shannan and I have been in touch and it made my day knowing I had previously made her's!
Love you all!