This incredible connection developed after two separate interactions. The following story features part one and part two.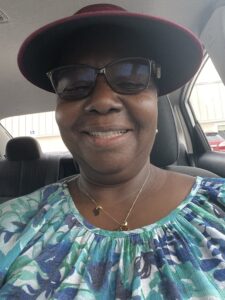 Don't forget to tip service people not just monetarily, but also with respect and kindness. Life can be full of teaching moments. A short story to emphasize how one small act of kindness can transform the day of someone else. I've had COVID the last few days. Fortunately my boyfriend has been sending tons of food, vitamins, and lots of flowers. This afternoon he sent me another package. I had to sign it for it. It's been so unbearably hot, I asked the delivery woman Ellen if she would like some water? She gasped, and said please!! I shut the door and went back inside.
As I pulled out the water, I grabbed a rose from one of my bouquets and brought it outside. I hand her the water, and she almost walks away, not even noticing the pink rose. I said loudly, the rose is for you. She looked up, and immediately her eyes started watering as she emotionally expressed, "You don't know what this means to me, I just lost my brother." I could feel her pain. I told her I wished I could hug her, but that I'm getting over COVID. I told her to hold on just a second, I had something else inside for her. I grabbed a copy of my book The Girl Who Said Hello to Everyone and wrote a special note inside. I opened the door and explained to Ellen the book was originally a poem I wrote when my father passed. I told her I was extremely sorry for her loss. We stood for a moment and cried together. We looked at each other and for a moment we stood and held the emotional weight of each other.
Grief has an odd way of bringing people together if you let it. Shattering walls between complete strangers in an instant. I placed my hands on my heart and told her with my eyes I loved her. It pained me not to hug her, but I would never want to get someone sick. I've felt pretty bad these last few days, but our encounter brought much needed light and perspective to my doorstep. No matter what you're facing, you can always take a moment to think of someone else, because in doing so, it brightens our entire world, even kind strangers. Treat everyone with respect and kindness, even if you'll never see that person again. Never underestimate how much your presence makes the world a better place, in sickness and in health. I see you, and I believe in you. I love you all.
Originally published September 17th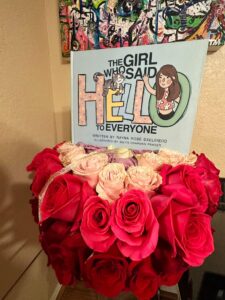 "She told me when she saw my name on the order last night, she thought could this be the same Rayna???"
"She told me when she saw my name on the order last night, she thought could this be the same Rayna???" Even in times of darkness there can be light. For the first time in a few months I lit my Shabbat candles last night. Little did I know those two flames would attract even more light, exactly when I needed it.
Last month I wrote up a short story about a special encounter with an Uber driver named Ellen. When she came to my house last month, she delivered supplies to help with my COVID. When I gave her a rose as thank you, she emotionally shared she recently lost her brother "you don't know what this means to me." As we cried together, I told her I was so sorry I couldn't hug her, but instead gifted her a copy of my book. It hurt so much not to hug another person experiencing so much pain. I shared my book was inspired by the loss of my Dad. As you should all know by now, this week for Israel and the Jewish people has been horrific.
There are stories of increases in Antisemitic acts all over the world. Last night when I got the knock on the door, I triple checked in the peephole it was Uber. I opened the door and there standing was my new friend Ellen. I started crying and told her I really needed that hug, and we embraced for about 5 minutes. She told me she still had the rose and that the day we met was originally her tipping point, but my actions made it a turning point. She said the encouragement and motivation and love from your kindness helped her on her darkest day. She blessed me and the Jewish people as she explained she is praying for all of us. We cried as she told me she is from Africa and that God will protect and watch over us, in time it will be alright. We took a selfie to hold the moment.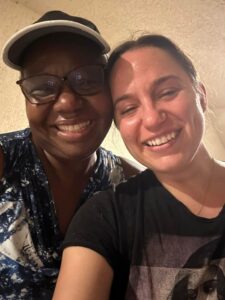 Her words. Her hugs. I saved her in my phone as Ellen the Angel. Ellen told me she was thinking about me and finding a way to connect with me. It had been on heart. She told me when she saw my name on the order last night, she thought could this be the same Rayna??? We both agreed God wanted her to come back my doorstep at that very moment. Where her love and hugs truly were what I needed. It was my darkest day.
I was so moved by the moment, I pointed at my Jewish star with the evil eye and shared I want you to have my necklace. If I give it to you, is it something you would wear? Ellen's face lit up, it was a YES! As I took it off and put it on Ellen I told her may this be a reminder for both of us even when we feel alone that God is always watching. We took another selfie. I share this story for a few reasons. The energy you put into the world comes back around. There have been many reports of Jewish people being fearful of Uber given the ongoing situation in Israel. It's hard for people to understand, but when Israel is in conflict, Jews around the world become targets too. While there are many Israelis who still don't feel safe in their own home, this weekend I am grateful for my safety and for the light we can create even in dark times.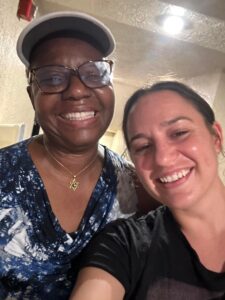 No matter what you're going through don't ever be so sad that you can't be a contribution with your attention, your time, your talents, your kindness- whatever because in doing so sometimes the universe will send you an Angel right when you need it. You matter and so do your actions. Be kind. Be proud, and never stop sharing your love with others no matter how much hate or sadness you may feel. The world needs you. Go be a light. I love you all.
Part Two Originally Published October 14, 2023.